FRIENDS OF CLAINES CHuRCH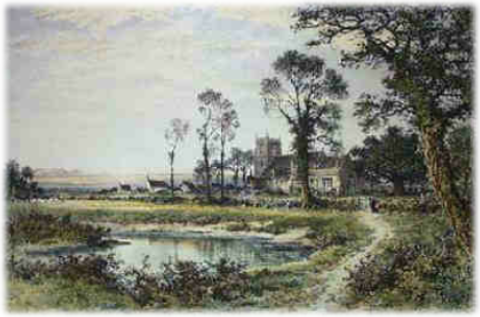 "The Way to the Village Church"
B.W Leader 1902
Several of Leader's works are in Worcester Museum but many are in private ownership. The first painting above, "An English Country Churchyard" was in private ownership from 1864 until being sold at Christies in 2004. (It was purchased for £100 in 1864 and sold with a guide price of £30,000-50,000 in 2004!) Many of his original early sketches are held at the Victoria & Albert Museum in London.
We are indebted to Ruth Wood, MA, a world authority on Leader, for her willingness to share her knowledge and photographs of Leader's works with us, including her visit to Claines Church and her excellent book "Benjamin Williams Leader RA- His Life and Paintings" (ISBN 1 85149 273 9). This is thoroughly recommended for a comprehensive review of Leader's life and works, containing superb colour photographs of many of his works.
Leader is Worcester's most famous Victorian artist, though many today will not know his name. He knew Claines Church well and it featured in several of his paintings which today fetch up to £50,000.
Leader was born at 94 Worcester High Street in 1831, the son of an Ironmonger. His family were of Quaker descent. His father took a leading role in the promotion of modern British Art and Constable was a visitor to their home.
His early paintings were inspired by the River Severn. His father, became a leading city engineer and moved his family alongside the Severn, living at Diglis House, now the Diglis Hotel. With an early career in engineering and then banking, Leader submitted his first painting to the Royal Academy Exhibition in 1853. He subsequently became, in his lifetime, one of the most widely acclaimed Victorian Landscape painters. He was particularly known for his mastery of exploiting differing natural effects of light, which became his trade mark.
Leader continued living in Worcestershire, at Whittington Lodge, until 1889. That year, he moved to Surrey and resided there until his death in 1923.
His link with Claines is through his use of the Church in his paintings. "An English Country Churchyard" above, clearly shows a South East view of the Lady Chapel. There is obviously artistic licence regarding the background and some of the tombs shown, but even the Yew tree still stands, a similar tree appearing regularly in many of Leader's church paintings.
"The Way to the Village Church" below, also features Claines Church set amidst a different scene, but very recognisable.
One more of his paintings "The Silent Restfulness of Eve" 1898, features Claines Church (not shown here).
"An English Country Churchyard: Autumn"
B.W Leader 1863